Between 2013 and 2017, I mixed a lot of music under the name Mockingbird. I also released a #DarkSounds EP under As In Space, put together a few mashups and did a few collaborations with a friend who made music as the Air Raid Manual. We were a motley crew.
You can download the mixtapes below. All of the album art is by yours truly.
---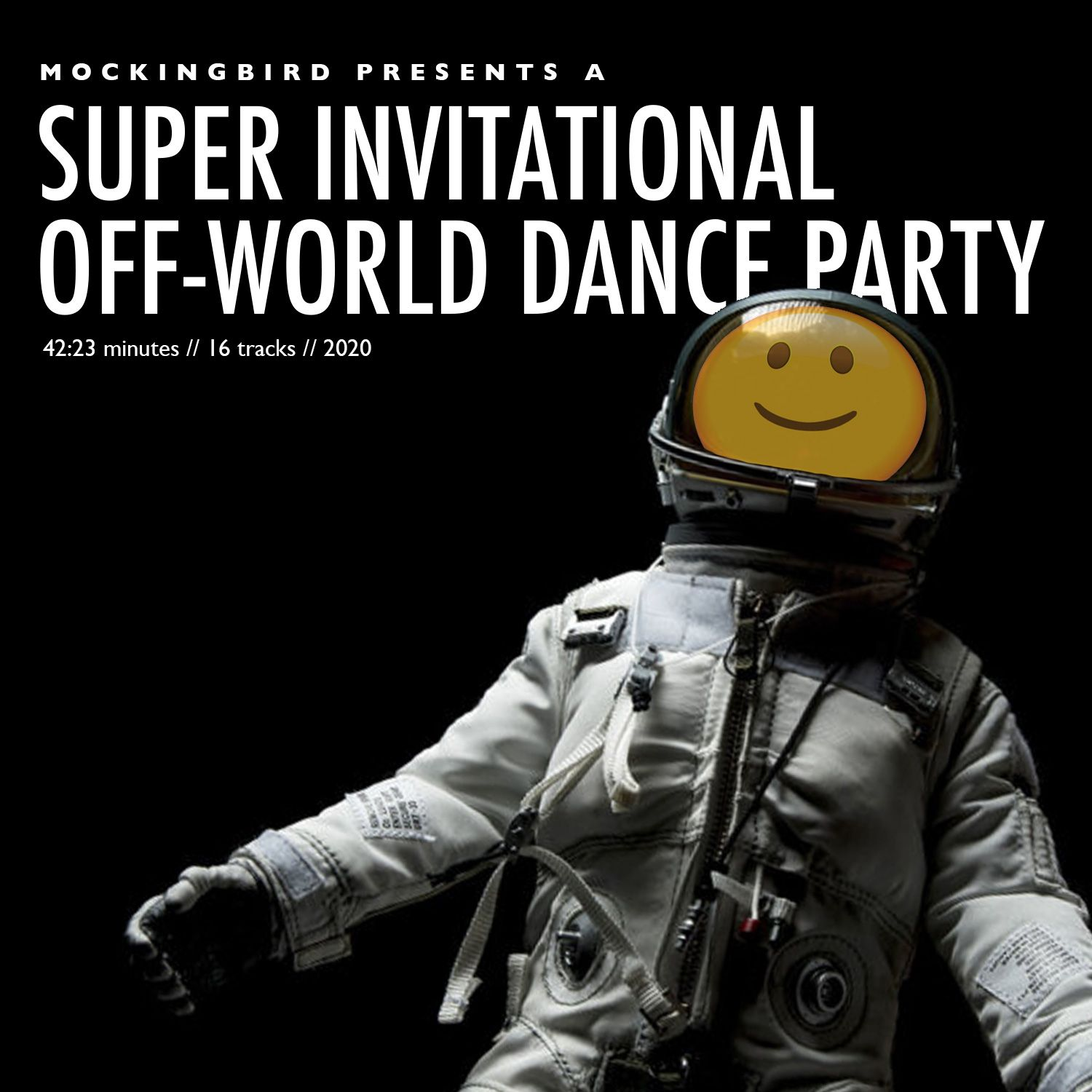 In Times Like These...
The envelope is slipped under your door in the early morning. You're invited. The party is on, she got you tickets. You just need to figure out a way to get properly attired, wrangle past the earth crowds, and get to the launch pads before the last ride leaves. Then: pure bliss, the invitations says. But hey -- don't sweat it. If you don't make it, there'll always be the bootleg copy, right?

42 minutes of music for everyone who managed to get off the planet while the rest of us proles are locked down.

FEATURING //
An earthbound introduction set
An introspective ride on a space elevator
The eponymous off-world dance party
An alien battle
The space station's inevitable collapse

LISTEN //
Download :: .mp3
Stream :: https://www.mixcloud.com/mockingbird_music/super-invitational-off-world-dance-party/

TRACKLIST //
00:00 :: DaFoniks - The Orchestral Theme
00:36 :: Sepalot - Tocole
04:12 :: Martin Garrix (feat. Macklemore & Patrick Stump) - Summer Days
06:43 :: Blockhead - Grape Nuts and Chalk Sauce
09:29 :: RJD2 -  No Helmet Up Indianola
12:46 :: L'Impératrice - LE DÉPART (version acoustique)
13:33 :: MAKJ & Timmy Trumpet (feat. Andrew W.K.) - Party Till We Die (Original vs. Farrier Festival Trap Remix)
15:15 :: Make a Move - Bassline (Aron Matthews Remix)
18:17 :: Walker & Royce - Take Me To Your Leader (Radio Edit)
22:12 :: Iglooghost - Super Ink Burst
24:44 :: Sunmi (선미) - Gashina (Original vs. Areia KPop Remix)
27:18 :: Jennie - Solo
29:33 :: Lizzo - Good as Hell
32:07 :: DJ Shadow (feat. De La Soul)  - Rocket Fuel
35:03 :: Glass Animals (feat Denzel Curry) - Tokyo Drifting 
37:20 :: edIT (feat. TTC, Busdriver and D-Styles) - Crunk De Gaulle
---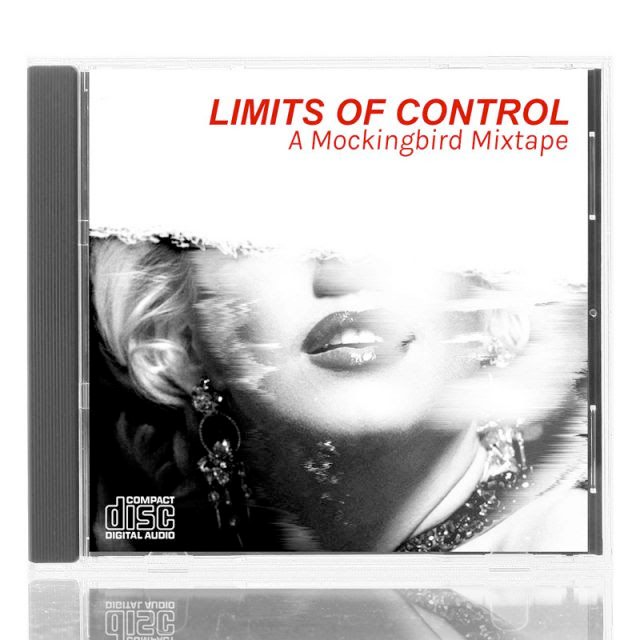 TEXT // Somewhere along the unquelled beachhead, a singer's voice starts to quiver: some think she is singing love songs. Others say she is simmering protests in the key of anger. Is there a difference between them, besides the object of affection? Dust catches her throat and she coughs and she stumbles but she does not stop. The beachhead is agitating. A long time ago, she found the limits of things she can control and the limits of things that can control her. Now she sings and asks all around her not to be quiet.
"Your silence will not protect you."- Audre Lorde
LISTEN //
Download: .mp3
Stream: https://www.mixcloud.com/mockingbird_music/limits-of-control/
TRACKLIST //
-- Part 1: Denial -- 
[Barack Obama - Don't Tell Me Words Don't Matter, 2008]
00:00 :: Sharon Jones and The Dapkings - This Land Is Our Land
[Trump Victory Speech, Remixed, 2016]
02:26 :: Teemid - Crazy (feat. Joie Tan)
[Media Breakdown]
-- Part 2: Anger -- 
05:49 :: The Fugees - Ready or Not (DubRocca Remix)
[Chimamanda Ngozi - We Should All Be Feminists]
10:05 :: Dom La Nena - Start a War
[Dr. Strangelove - "Too Important For Politicians"]
13:55 :: Balkan Beat Box - War Again
[Riots & Police Chatter in Baltimore, 2016]
-- Part 3: Bargaining --
17:37 :: Dead Prez - Police State (Acapella feat Tibetan Monks Chanting)
18:15 :: My Brightest Diamond - Say What
21:23 :: Beyonce - Freedom (Feat Kendrick Lamar)
25:04 :: Mikael Siefu - How to Save a Life
[Barack Obama - Victory Speech, 2012]
[Hattie White - Lemonade]
29:51 :: Ibeyi - River
[Firefight at Restrepo Outpost, Afghanistan]
-- Part 4: Depression --
33:54 :: Anohni - Crisis
36:45 :: Jetta - I'd Love to Change the World ( Matstubs Remix)
[Martin Luther King, Jr - Language of the Unheard]
39:21 :: Fatima al Qadiri- Power (feat. ex-LAPD sergeant, Cheryl Dorsey)
-- Part 5: Acceptance --
42:31 :: The XX - Dangerous
46:30 :: Karl Denson's Tiny Universe - Seven Nation Army
[FDR - First Inaugural Address]
[James Baldwin - Struggle for Integrity]
[This Land Is Your Land, Reprise]
---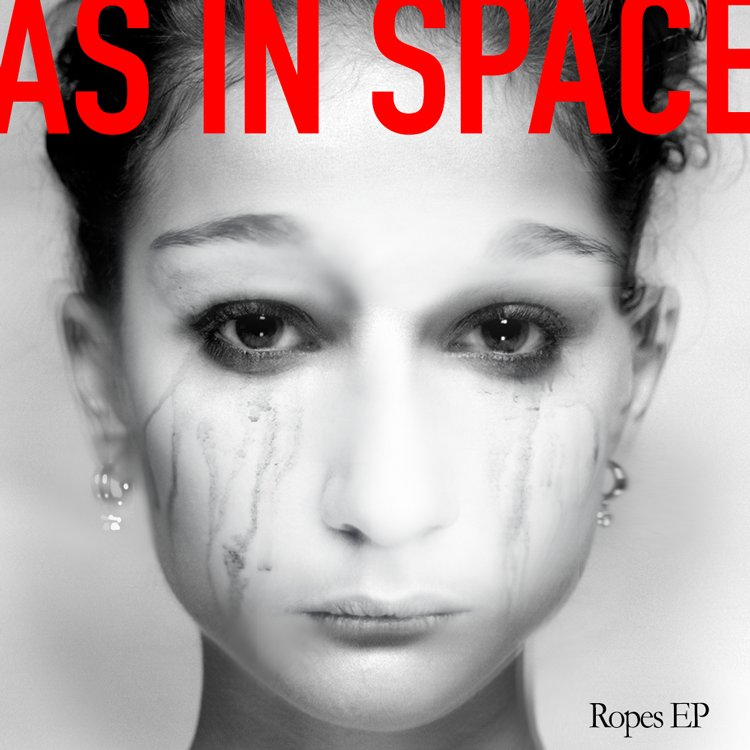 TEXT // For the last three years, I've been making mixtapes under the moniker of Mockingbird. Some of these have been solo creations, and some of these have been joint efforts with partner-in-crime, Air Raid Manual (check out the hyperwonderful 18 minute BLITZ if you haven't already!). During that time, I've also been experimenting with sampling and recombining sounds into more song-like formats.
I think I was 17 when I first listened to Mars Volta's Francis the Mute. I didn't get it at first -- the eerie frogs between tracks, the long sections of silence, noise, atmosphere... but it stuck with me. I wanted to understand what they were doing. When I started working on music on the computer (as opposed to fiddling around on guitar), I tried to incorporate everyday sounds into whatever I was making. Birdsong in the morning. Footsteps on the way to the train. Conversation over dinner. I've been trying to recreate a scene of some sort using only sounds. Like, Close your eyes, listen to something, see something. I can't say I've been successful yet, but why not try, right?

I've put together 8 thematically similar remixes that constitute an extended play. I'm releasing them as the "Ropes EP", under As In Space, today, right now. They're #DarkSounds, sure to confuse, disappoint, frustrate, and scare you off. They're nothing like the Mockingbird mixtapes. Don't take them too seriously.

LISTEN //
Download: .zip
Stream: https://soundcloud.com/as-in-space/sets/ropes-ep (Though SoundCloud has a habit of deleting my mixes, so it's likely not the full stream)

TRACKLIST //
1. Horror Show
2. Waking Up From a Dream
3. Devils
4. Clockers
5. The Light Will Hurt
6. Footwork on Repeat
7. Can't Sleep
8. Without Asking for Too Many Details
Also, from the Horror Show single, previously released as Mockingbird: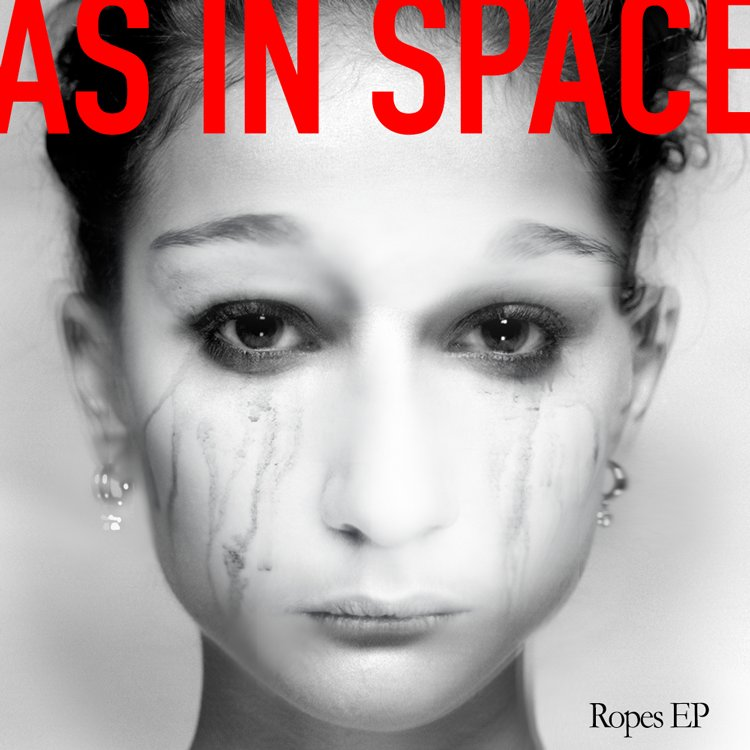 ---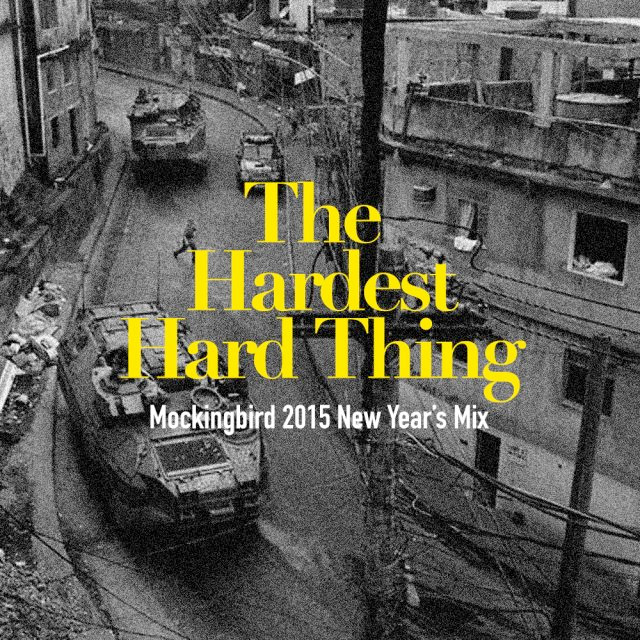 TEXT //A screaming comes across the bass line. It's deeper than a hole in the ozone, more volatile than an unstable gravedigger. The bones start to groove. Time forgets to move. It's the hardest hard hard hard thing.
LISTEN //
Download: mp3
Stream: https://www.mixcloud.com/mockingbird_music/the-hardest-hard-thing/

TRACKLIST //
00:00 :: Gattaca - Space
00:14 :: Tiësto & The Chainsmokers - Split (Only U)
03:05 :: ZHU - Faded
06:36 :: Beat Torrent - In Tension
09:33 :: Keys n Krates - Hypnotik
11:53 :: DJ Fresh vs. Jay Fay (Feat. Ms Dynamite) - Dibby Dibby Sound
14:56 :: Missy Elliott - Get Ur Freak On (Neon Steve Remix)
19:06 :: Alt J - Left Hand Free (Lido Remix)
23:14 :: Watch the Duck - Poppin' Off
26:15 :: Alfonz - Ganjaman
28:02 :: James Brown - Sex Machine (Audioplayerz Remix)
32:35 :: The Fugees - Ready or Not (DubRocca Remix)
36:50 :: Janet Jackson - Go Deep (Tchami Remix)
40:45 :: Caravan Palace - Clash
43:49 :: Showtek (Feat. We Are Loud! & Sonny Wilson) - Booyah 
48:38 :: Diplo - Revolution (Sean & Bobo Remix)
51:33 :: Lobsterdust - A Good Beat
---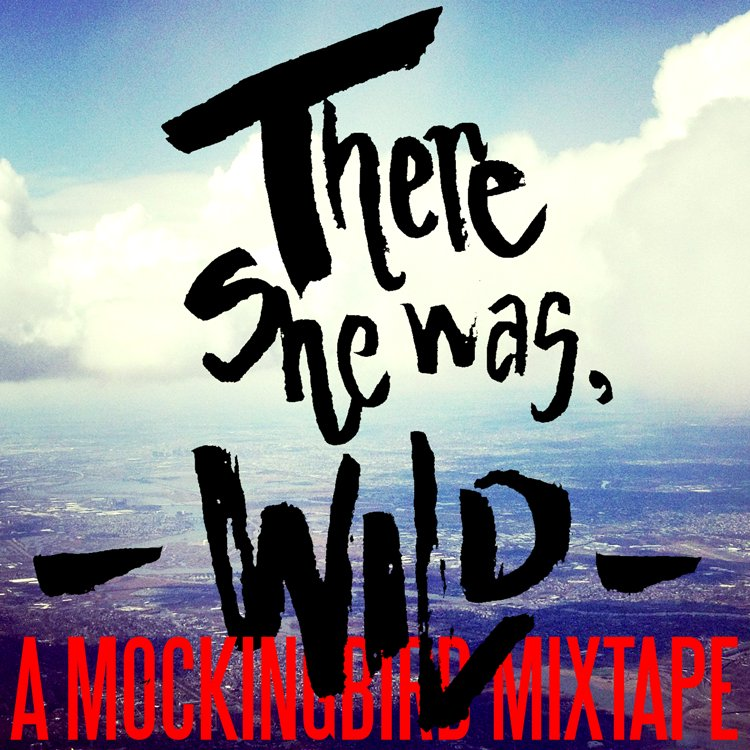 TEXT //
This is a story about being free. I mean, there she was, wild as the sun and just as on fire. She tore the fields apart strutting round like a Genovese diplomat, levying taxes on the poor of heart and the unsuspecting. Our eyes were robbed blind but our pockets filled with just rewards. And behind her, a little drum kept beating to the tune of an earthquake.

LISTEN //
Download: mp3
Stream: https://www.mixcloud.com/mockingbird_music/there-she-was-wild/

TRACKLIST //
00:00 :: DJ Shadow - You Can't Go Home Again
03:24 :: Pizzicato Five -  Mon Amour Tokyo
06:10 :: Balkan Beat Box - Meboli
08:51 :: TM Juke - Bee's On Mars
10:29 :: Ace of Base - All that she wants (Kaffeine remix)
13:52 :: Kill Paris - Ghostbusters Theme Remix
15:14 :: Yeah Yeah Yeahs - Heads Will Roll (A-Trak Remix) feat. Shogun Assassin
18:41 :: The Knocks - Dancing With The DJ (RUNVS Remix)
21:48 :: M.I.A - Paper Planes [DFA Remix]
25:51 :: Sharer - Body Tonight
31:07 :: Boys Noize - Jeffer
34:00 :: The Ian Carey Project - Get Shaky (Matrix & Futurebound's Nip Tuck Remix)
38:24 :: DJ Fresh - Gold Dust (Shy FX Re-Edit)
41:24 :: Kutiman - Thru Tokyo
44:34 :: Bleep Bloop - Denial
46:49 :: Midnight To Monaco - Suicide
50:01 :: ToToM - XXXO on the Dock of the Bay (MIA vs. Otis Redding)
---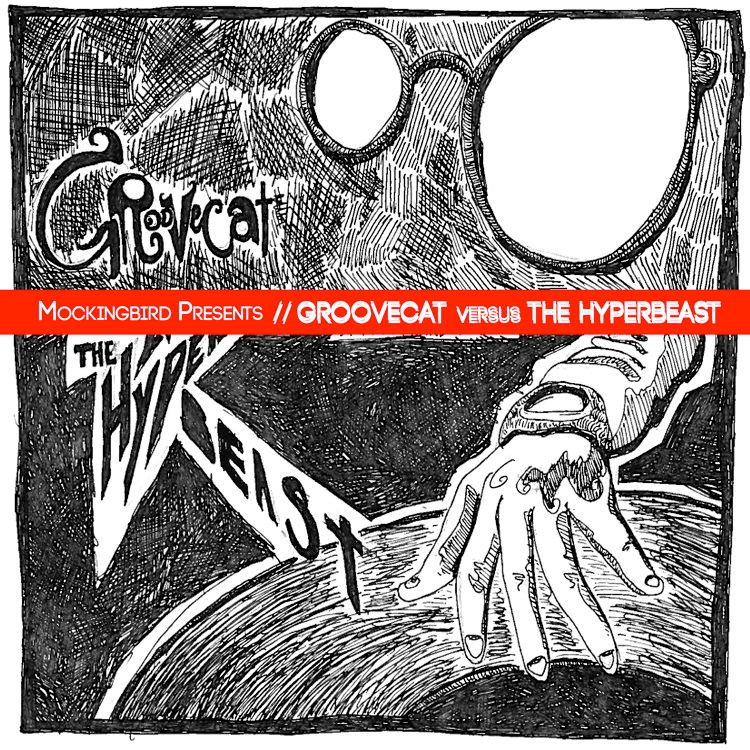 TEXT //
Somewhere in a dank basement, where not-yet-twenty-year-olds roam the bassline, two old men walk in and quietly set up their gear. They snip the wires and lock the doors. The older of them puts on a record. Mingus comes on, like an elephant beckoning a fight. The less older one counters with a beat on top. The kids stand there confused, but they start to sway, and to sway, and to sway...

LISTEN //
Download: mp3
Stream: https://www.mixcloud.com/mockingbird_music/mockingbird-groovecat-versus-the-hyperbeast/

TRACKLIST //
00:00 :: Robot Koch vs. Charles Mingus - Moanin'
03:25 :: Pulp Fiction - "You Will Know My Name is the Lord"
03:31 :: Nancy Sinatra - Bang Bang (White Noise Dubstep Remix)
06:48 :: SIMON NRJ - Lana Del Ray vs. George Barnett (Lucky Summertime)
09:20 :: Apex Rise - Take U Out
11:56 :: National Lampoon - You're Expelled
12:22 :: D.veloped - Bring Em Home (Gold Jacket Remix)
15:37 :: Meta - Parallel
19:17 :: Iggy Azalea - Fancy ft. Charli XCX
22:34 :: Bang La Decks - Utopia (Aero Chord's Festival Trap Remix)
24:40 :: Balkan Beat Box - Hermetico (Freedo's Dirty Talk Remix)
26:20 :: Balkan Beat Box - Hermetico (Original)
29:40 :: Balkan Beat Box vs. Eugene Hutz - Tromba De Xingari
31:49 :: Parov Stelar - Love (Radio Edit)
35:02 :: Jessica Mauboy ft. Pitbull - Kick up Your Heels
37:28 :: 5'nizza - Soldat (Noiz remix)
42:22 :: DJ Shadow - Organ Donar
43:41 :: Family Guy - I Hate You All
43:55 :: Pretty Lights - Finally Moving
---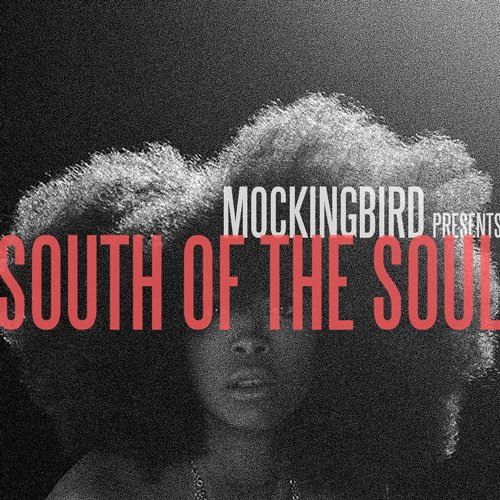 TEXT //
Every once in a while, you dig to some places that just might be [...].
A shorter one, from a more tender place. Not a dance mix.

LISTEN //
Download: .mp3
Stream: https://www.mixcloud.com/mockingbird_music/south-of-the-soul/
TRACKLIST //
Side One
00:00 :: Aja Monet - Us
03:42 :: Bassnectar - Butterfly (Beats Antique Remix ft. Sorne) 
08:21 :: Little Boots - Earthquake (Pharos Remix)
12:49 :: Frank Ocean - Lost
17:11 :: Coultrain - Like A Dusty Piano
Intermission
21:43 :: Lord RAJA -  Darwin 
Side Two
23:43 :: Fair Maiden - India
25:51 :: MadVillian - Supervillian Theme
26:40 :: Mother Upduff - Mud
29:47 :: L'Orange - Lost Souls (feat. Hassaan Mackey, yU & Kelsey Lu)
32:45 :: Chinra - Smoking Buddha
34:12 :: MØ - Waste of Time
---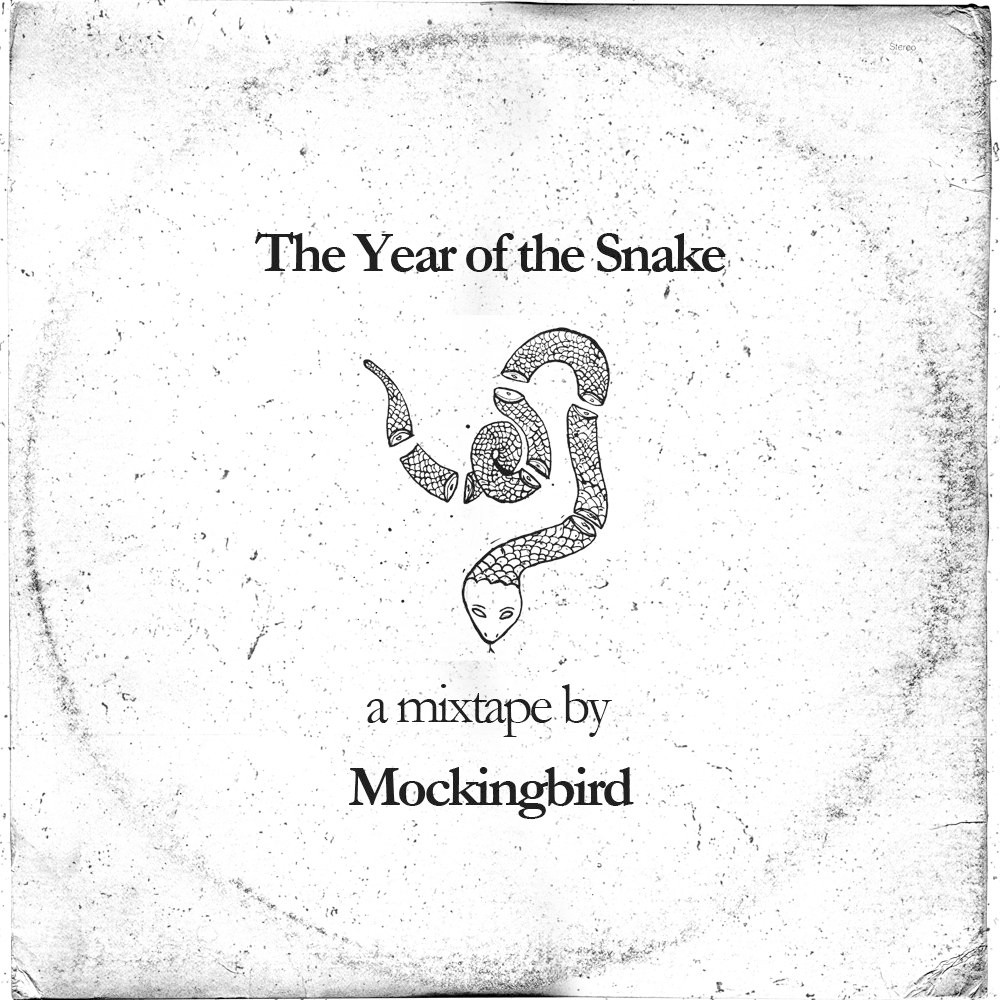 // Text:Year of the Snake came together in two nights. I had spent nearly a month mixing the follow up to All Night and it just wasn't coming together.  So I took the last track -- Medieval Love -- which was the whole nut of the operation, and decided to make a mix with just that. If Medieval Love opens, what comes next? Beezledub was an easy choice. Air Raid Manual had sent me that and Golden Features, and I had them on near-repeat for a few days. Golden Features led to some deep bass rolls that I wanted to explore. After then, every track fell into place as easily as Jenga falls apart. Unlike Clearer, Stronger, Better, Wronger's solid 125bpm set, the tempo here is all over the place. It's still for dancing, undoubtedly, but you can also listen to it on the subway. Or in your car. Or walking down the street. Just don't blame me if you bust a move or two. Or hell, why not. I'll take the blame. Enjoy.
LISTEN //
Download: .mp3
Stream: http://mock-and-raid.tumblr.com/post/110217734152/year-of-the-snake-by-dj-mockingbird-on

TRACKLIST //
00:00 :: Its Overture - Medieval Love (The Rapture vs. Fake Blood)
05:04 :: Paleman - Beezledub (Swamp 81)
08:17 :: Golden Features - Tell Me ft. Nicole Millar
13:03 :: Porter Robinson - Years of War (Golden Features Remix)
17:29 :: Yellow Claw - Kaolo
20:17 :: Rufus - Take Me
24:14 :: Cashmere Cat - With Me
27:39 :: Daft Punk - Harder, Better, Faster, Stronger (Dillon Francis Remix)
31:24 :: Destructo - Higher
33:27 :: The Presets - No Fun (Golden Features Remix)
37:44 :: Katy Perry - This Is How We Do (Brillz Remix)
40:52 :: Rich Homie Quan - Type of Way (Dotcom Trap Remix)
43:07 :: Skrillex - Right In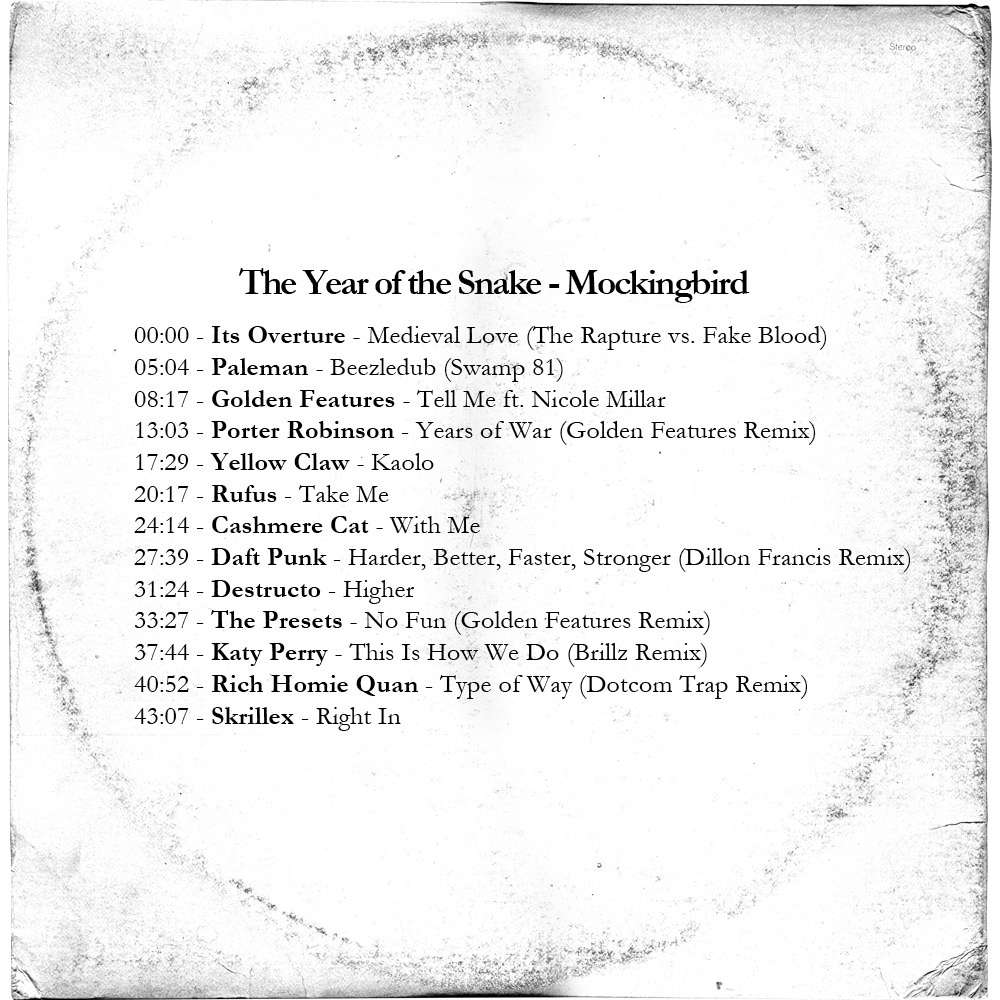 ---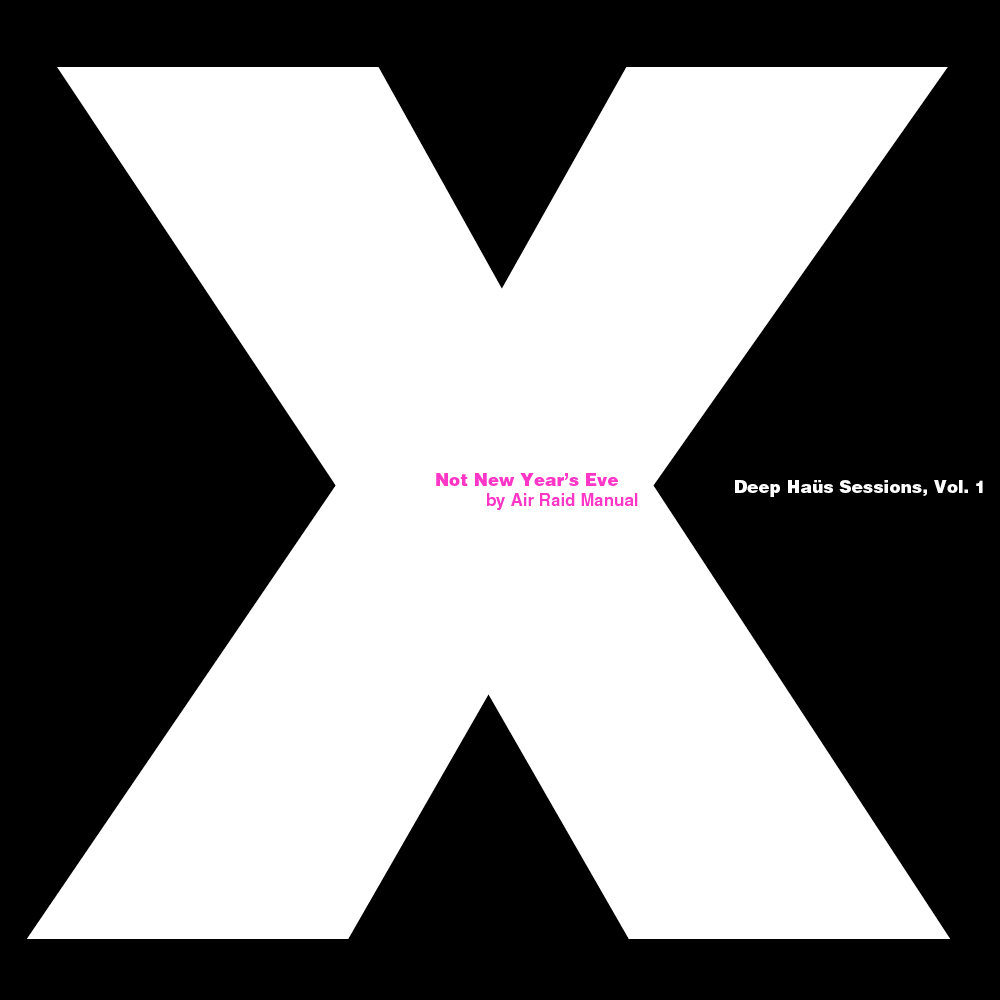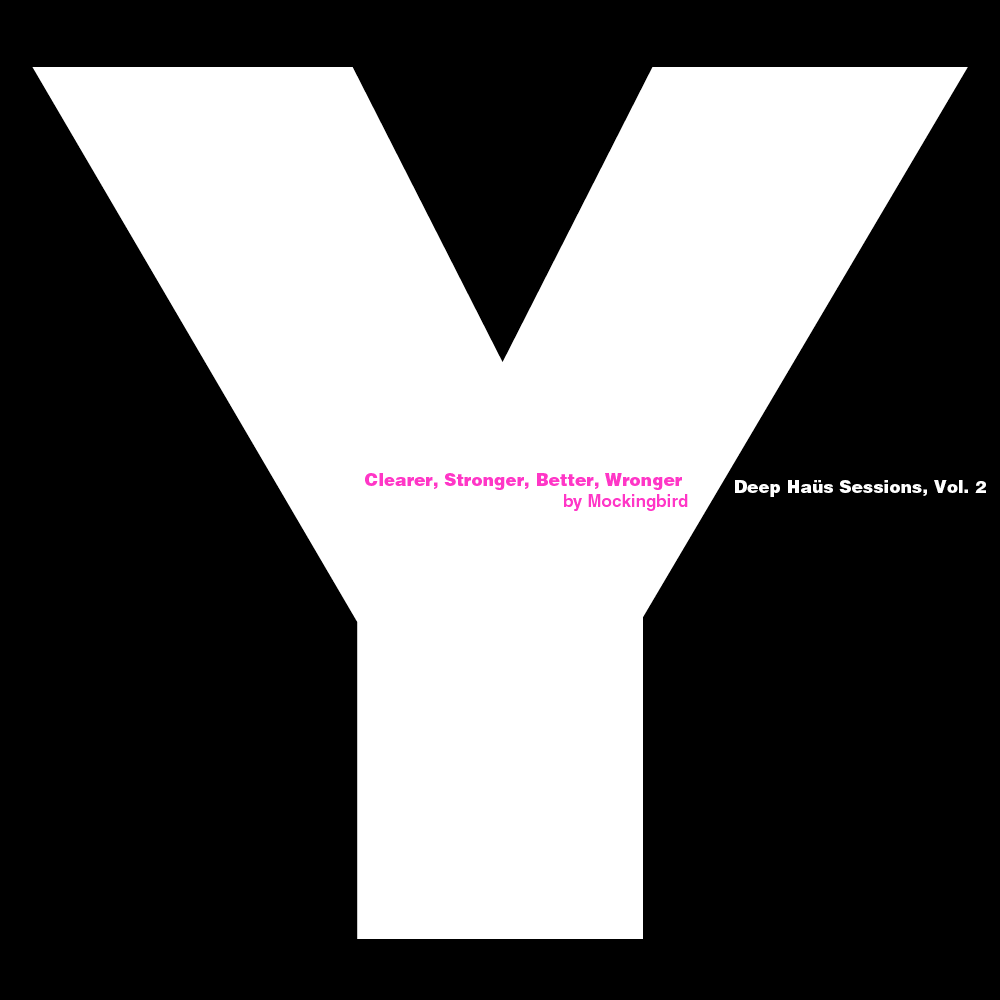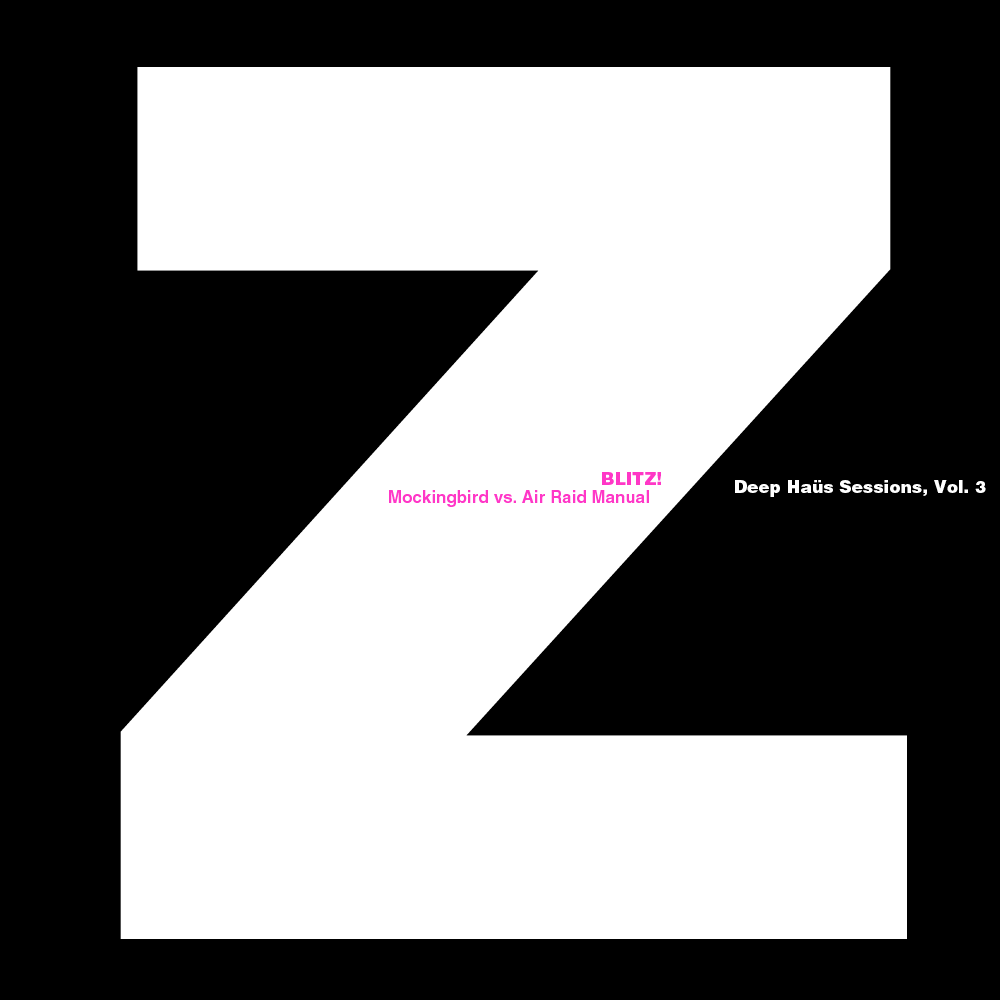 TEXT //
Wow. I can't believe it's been one year since we started drinking and thought, "Oh yeah, making music is a fantastic idea!" The part I can't believe is that there was never for a second a doubt about what we were doing. Maybe it's because we didn't stop drinking?

Anyway, It's been a year of friends listening to our music. It finally got to the point where we had too many people to bcc each time we send an email announcing a new mix. This had to happen, eventually. People were actually asking us to send them music. Strangers! So... for everyone new to this list, welcome! To every friend and critic finding themselves return'd, welcome! This month gets to see 3 new mixes. One from me, one from the Air Raid Manual, and a middle finger to 2014 made by both of us.

A note: these mixes were made for New Year's Eve, 2014. Please enjoy responsibly.

LISTEN //
X, Volume 1: Not New Years Eve (Air Raid Manual) - Stream
Y, Volume 2: Clearer, Stronger, Better, Wrong (Mockingbird) - Stream | .mp3
Z, Volume 3: BLITZ! (Mockingbird vs. the Air Raid Manual) - Stream | .mp3
---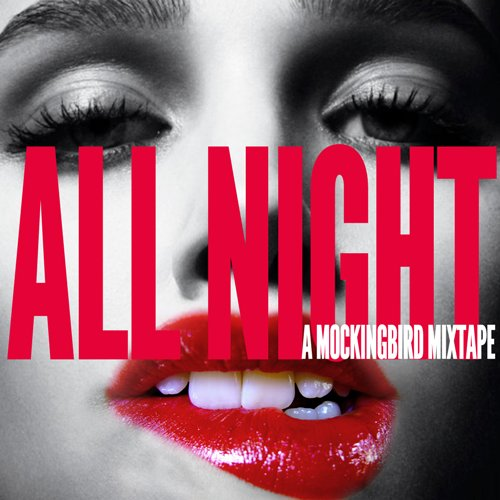 TEXT //
The original party album with dueling songs to keep you up all night.
LISTEN //
Download: .mp3
Stream: https://www.mixcloud.com/mockingbird_music/all-night/
TRACKLIST //
01. Bedstuy vs. Blue Eyes - Juicy (New York)
02. Nina Simone - Sinnerman (Felix Da Housecat's Heavenly House Mix) vs. Faithless - Insomnia
03. Feist - Sea Lion Woman
04. Kurtis Blow - Clap Your Hands
05. Theophilus London - Ain't No Sunshine
06. Go Periscope - Black & Yellow (Wiz Khalifa vs. Alphaville)
07. Slaptop - Animus Vox (Nelly Furtado vs. Ludacris vs. The Glitch Mob)
08. DangerMouse (Grey Album) - What More Can I Say? (Jay Z vs. the Beatles)
09. Parov Stelar - Charleston Butterfly (feat. Gabriella Hnninen)
10. Bebo Best & the Super Lounge Orchestra - Sing Sing Sing
11. Black Violin - Brandenburg
12. Phildel - Moonsea
13. Hugo Kant - No Jazz vs. Francis Ha
14. AWOL Nation - Sail
---
TEXT //
Before "LIMITS OF CONTROL", there was "SPEAK POLITICS", the original angry political mixtape. Wear your colors.
LISTEN //
Download: .mp3
Stream: https://www.mixcloud.com/mockingbird_music/mockingbird-speak-politics-or-die/
TRACKLIST //
01. Coyote Kisses vs. Ke$ha – Intro
02. Mario Savio - Put Your Bodies Upon The Gears
03. The Roots - !!!!!!!
04. Feed Me - To The Stars
05. Aesop Rock - Commencement at Obedience Academy
06. Coyote Kisses - Acid Wolfpack
07. Malcolm X - The Real Names of Our People Were Destroyed by Slavery
08. Kill the Noise - Dying (Brian & Gammon Remix)
09. System of a Down - Toxicity
10. Christopher Hitchens - Against Theocracy
11. Crookers - Gypsy P
12. Nas - Illmatic Intro
13. GZA - B.I.B.L.E.
14. Big D and the Kids Table - Noise Complaint
15. Monty Python - And Now, For Something Completely Different
16. Shawn Lee's Ping Pong Orchestra - Windy City
17. Depth Affect - Honey Folky
18. Delton 3030 - Mastermind (Dan the Automator Instrumental version)
19. Alan Ginsberg - Howl
20. Gil Scott Heron - The Revolution Will Not Be Televised (Pieces of a Man version)
21. Lily Allen - Fuck You
22. Bikini Kill - Rebel Girl
23. Ronald Reagan - Tear Down This Wall
---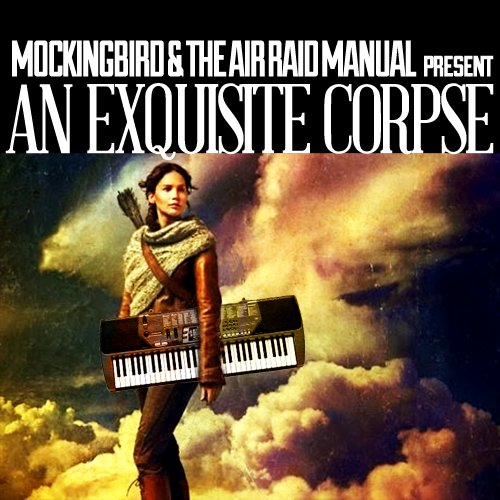 LISTEN //
Download: .mp3
Stream: https://www.mixcloud.com/mockingbird_music/an-exquisite-corpse/
TRACKLIST //
01. Deftones - You've Seen The Butcher (Mustard Pimp Remix)
02. Nujabes - Nightshift
03. House of Black Lanterns - You, Me, Metropolis
04. DeadMau5 - Raise Your Weapon (feat. Greta Svabo Bech)
05. State of Mind (feat. Black Sun Empire and Codebreaker) - Long Time Dead
06. Little Boots - Stuck on Repeat (Fake Blood Remix)
07. DMX - X Gon' Give It To Ya
08. The Roots - Water
09. Yanntek - Rise
10. Wolfgang Gartner - Illmerica
---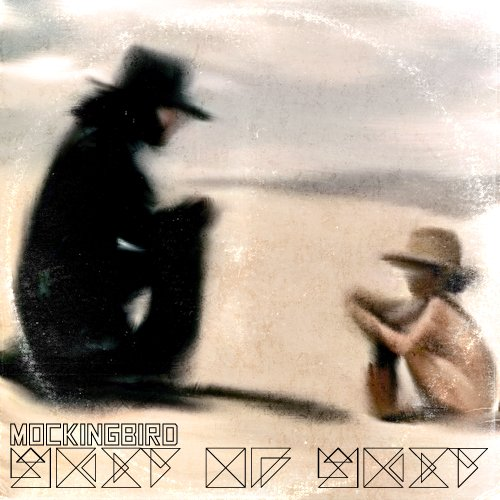 TEXT //
Made with David Lamb of Brown Bird in mind, who died earlier this year, much too young. The guy was a brilliant musician and poet, and I had a chance to see him play live a number of times. He and his partner Morgan Eve Swain always stole the show. If you have a chance, check out their music at http://brownbird.net/
LISTEN //
Download: .mp3
Stream: https://www.mixcloud.com/mockingbird_music/west-of-west/
TRACKLIST //
01. Ruby Friedman Orchestra - You'll Never Leave Harlan Alive (Darrell Scott cover)
02. Brown Bird - Seven Hells
03. Rx Bandits - One Million Miles An Hour, Fast Asleep
04. Rx Bandits - (Intro)
05. Shakey Graves - City in a Bottle (live)
06. Bright Eyes - Four Winds
07. Iron and Wine & Calexico - Dark Eyes (Bob Dylan Cover)
08. Robert Plant & Alison Krauss - Desert Rose (Tom Waits Cover)
09. Giulia Y Los Tellarini - Buenos Aires
10. Brown Bird - Chair Kickers
11. Asaf Avidan - Her Lies (Acoustic Version)
12. Jackie Greene - Miss Madeline
13. Dispatch - The General
---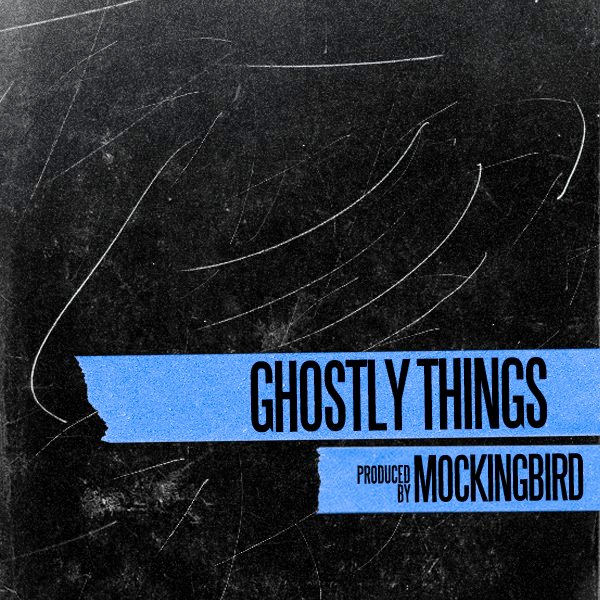 LISTEN //
Download: .mp3
Stream: https://www.mixcloud.com/mockingbird_music/ghostly-things/
TRACKLIST //
01. Creedance Clearwater Revival - Heard it on the Grapevine
[Vietnam Radio Signals - Making Contact pt. 1]
02. Massive Attack - Teardrop
03. Sigor Ros - Svefn g englar
04. Fever Ray - Now's the Only Time I Know
05. I Hear Sirens - O Failing Vessel, Brave the Violent Sea
06. Omar Rodriguez Lopez & John Frusciante - 5-45 am
07. Omar Rodrigues Lopez - Martes
08. Dom La Nena - Start a War (The National cover)
09. Old Apparatus - Baboon
10. Tettix - Dances of the Young Girls (Stravinsky - Rites of Spring remix)
11. Gorillaz - Kids With Guns
12. Danger Mouse and Sparklehorse - Little Girl (ft. Julian Casablancas)
13. Royksopp - Triumphant
[Vietnam Radio Signal - Making Contact pt. 2]
---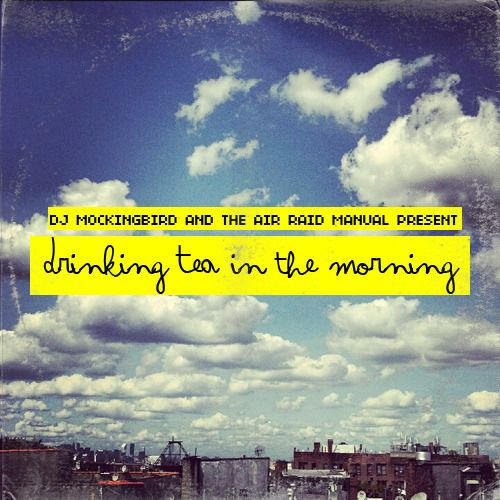 LISTEN //
Download: .mp3
Stream: https://www.mixcloud.com/mockingbird_music/drinking-tea-in-the-morning/
TRACKLIST //
[Typing and Birdsong]
01. The Yoshida Brothers - Kodo (Inside the Sun Remix)
02. Onra - The Anthem3. Moondog - Bird's Lament
04. Parov Stelar - Chambermaid Swing
05. L'Orange - Lost Souls (feat. Hassaan Mackey, yU, and Kelsey Lu)
06. Sergio Mendez - Yes Yes Y'All
07. Jay-Z and Kanye West - Otis
08. ToToM - XXXO on the Dock of the Bay
09. Buena Vista Social Club - Chan Chan (Live)
10. Ceu - Concrete Jungle
11. Gotan Project - Santa Maria
[Sounds of the sea]
12. Broken Bells - The Ghost Inside
13. World Gang - Promise 1
14. The Yoshida Brothers - Cherry Blossoms in the Winter
Thanks for reading
Was this useful? Interesting? Have something to add? Let me know.

Seriously, I love getting email and hearing from readers. Shoot me a note at hi@romandesign.co and I promise I'll respond.
You can also sign up for email or RSS updates when there's a new post.


Thanks,
Roman